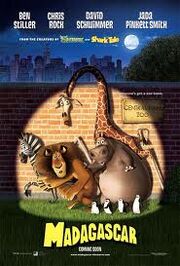 The first Madagascar is the first Madagascar film in the series,and what stated the francshine.It strats with the regular routine of the main characters at the zoo until Marty decides to follow the penguins' idea of going to the wild,causing his friends to go after him.This eventually gets to Madagascar.
A Day At the Zoo
Edit
Marty's Birthday Party
Edit
Ship Wrecked!
Edit
Welcome To Madagascar
Edit
To The Fossa Side
Edit
Saving Marty
Edit
Just Smile,and Wave
Edit
Ad blocker interference detected!
Wikia is a free-to-use site that makes money from advertising. We have a modified experience for viewers using ad blockers

Wikia is not accessible if you've made further modifications. Remove the custom ad blocker rule(s) and the page will load as expected.